Christmas Party Availability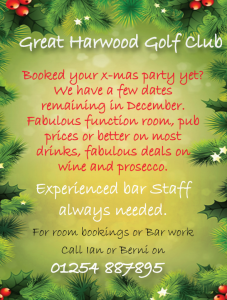 Send Us Your Course Photos
We are currently updating our website and Facebook page and need more up to date photos of our course.  If you have any or could take any for us, please message Darren on maz_65@hotmail.co.uk or send to us via Facebook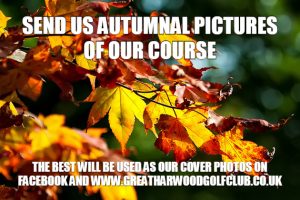 BRS Booking System Update October 2017
Thanks to all the members who have registered and are now using the BRS system for tee-off time bookings.  If you have not registered yet, please see the document below regarding how to register for BRS which is now live for all of our members' competitions.
BRS ONLINE BOOKING SYSTEM Notice
Further Update Regarding BRS Booking System
Click on the document for further information regarding the BRS Booking System.
BRS Booking System Information for Members
BRS Booking System Live For Visitors
Our new BRS
 Facebook Page Live

Our  Facebook page for Great Harwood Golf and Social Club is live.  Follow the link to like our page.
https://www.facebook.com/GreatHarwoodGolfandSocialClub/
Update on Greens-Report from STRI
Click on the link to view the report compiled by STRI regarding the current state of our greens and their recommendations to how Ben and Danny can improve them.
Great Harwood Golf Club 100 Club