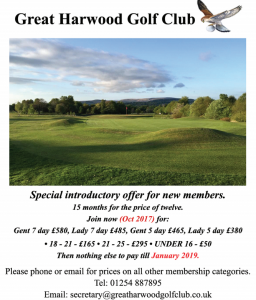 Visitors are always welcome at Great Harwood Golf Club.  We hold a number of Open Competitions during the season and visitors will soon be able to book tee times online with our new BRS booking system.
Below are details of our green fees and current prices for visiting parties.  If you would like to visit us or would like more information about making a group or society booking, please contact us.
Great Harwood Golf Club Green Fees
Spring Summer green fees are as follows –
 Midweek
Visitor £20.00
Fourball    £60.
Visitor with member £12.00
Junior with member £5.00
 Weekend Plus Bank Holidays
Visitor £20.00
Fourball £60.00
Visitor with Member £18.00